The following is from my journal: Friday just after lunch I headed with all my stuff (backpack full of laptop and books, large pack full of clothes and morris kit, sleeping bag, blankets, lantern) to Harvard by train and thence out to Watertown by the 73 trolley-bus, followed by a six block walk to Carl Fristrom's. I got there around 2:30 for a "3 to 4" window when Edie would come pick us up to head to the SUDS. Carl pulled in around 3:15, and Edie sometime around 3:40, and we were actually off before 4. From here on the serendipity of morris took over the trip in full force.
Rain had been forecast for all of Friday and Saturday, so I had bought a box of large trash bags and 50 feet of rope at the Porter Star Market Friday morning, to encase my sleeping bag and lantern bag and secure other things as needed for the walk to Carl's, but it turned out I didn't need them at all then, as the rain held off until we were on the Mass Pike. (I felt like a D&D character, hiking through Somerville and Watertown carrying fifty pounds of gear including a bedroll, a lantern, rations, and the ubiquitious 50 feet of rope.) We stopped at a Boston Market for dinner, alleviating the uncertainty I had about Friday dinner at SUDS, which turned out to be hamburgers grilled by Dave and John's special tabouli, for which I arrived in plenty of time anyhow (for second dinner). Neither Carl nor Edie (nor I) had directions, but Carl remembered how to get there, and we didn't make a single wrong turn, getting in several hours before dark.
Jim met us as we walked up, and as he had arrived on Thursday to help set up, the tent was already up and I didn't have to do a thing except drop my things inside. It wasn't raining at that moment at the SUDS, though it had rained there for seemingly months, given the swampy terrain. My sneakers were the only shoes I had, and while I was careful enough to walk on long grass and not sink in to the point of letting in water, they were rapidly getting soaked. And there was no grass under the main tent; that was just a giant swamp from the get-go. That night I lit my lantern and hung out under the main tent talking to several Pokingbroke and Binghampton men I didn't know for a few hours before retiring around midnight, after watching Dave Striker try to build a fire in the drizzle. I went to sleep in two pairs of pants and three shirts, with my laundry filling a pillowbag for a pillow, which worked well. The men down in the main tent sang songs until I drifted off.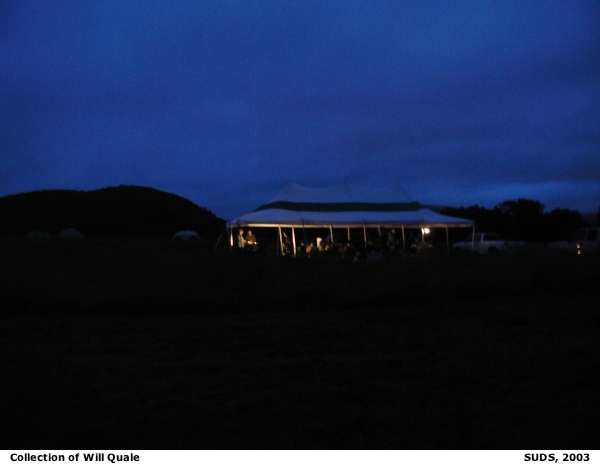 I was up before seven Saturday morning, and I tied garbage bags around my shoes to act as makeshift Wellies, but after about half an hour of mucking around it was clear they weren't going to work as a long-term solution, especially not that evening (mucking around camp in the dark) or the next morning (working to break camp).
And then, a morris miracle occurred.
On a chair under the main tent, there appeared a sign:
     Quality Shoes
       Size 10 W
         $20
      (see Frank)
And under the sign, sitting on the chair, were a pair of brand new L.L. Bean leather boots. I tried them on, and while they were a little large, especially in width, they fit. I tracked down Frank, a Binghampton man who hadn't intended to sell them as mud boots (but rather as good shoes that just didn't quite fit him) but who sold them to me anyhow, and then I had mud boots for the weekend. What a lifesaver! I was able to make my black sneakers presentable for my kit in time for the dancing, and able to walk around camp for the rest of the weekend without having to worry about where I stepped, which was a true morris miracle. That field was bloody awful.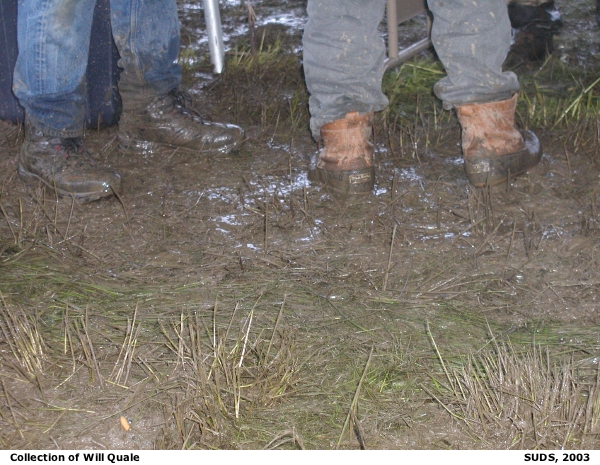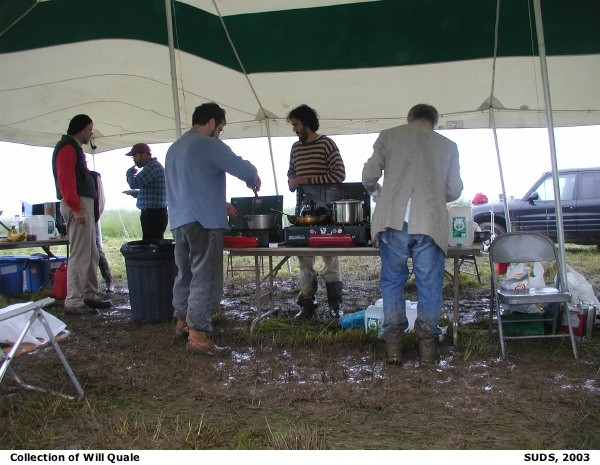 Breakfast Saturday morning was eggs and beans 'n' onions (spiked heavily by John with Jamerson's Irish whiskey) at camp, and since I was up before seven, I had a leisurely two hours to eat and get kitted up and ready to go for the day. At 9:30 we loaded onto the buses at the base of the driveway and headed out on our tours. Bouwerie was with Binghampton, and NewTowne, Pokingbroke, and Berkshire went on the Southern Tour. We danced at two small rural libraries and then had a lengthy lunch at a brewpub. At the first stand, we had twelve dancing men and did a double set of Cuckoo's Nest, the first time Bouwerie had done a double set in many years. Pretty much everyone except Hank and Gordy were there -- John, Michael, Jim, Charlie, Jamie, Graham, Dave, Terry, Steve, Grant, Mark, Daniel, and me, plus Jessica. Thirteen dancers total, two father-son pairs (Terry and Graham, Dave and Daniel) among them for the Father's Day SUDS!
Lunch was prepared sandwiches and soup, with cole slaw, chili, and cookies, and it was perfect for a morris tour -- efficient, tasty, several options, nutricious, light. I also had a blonde ale, which wasn't so to my liking, more probably from the type of beer than the brew (but I wanted to try something different and theoretically lighter). After lunch, there was a most peculiar session with Michael and Dave on fiddles, Mark on trombone, and Grant on theorbo! Quite a sight, and quite a sound. Mark is Jim's cousin, new to the Bouweries, and a Flying Brother Karamazov. Grant, the lutenist extraordinaire, left immediately after lunch to prepare to leave for Italy, where he's getting married next week. Before he left, we serenaded him with humourous advice as best befits a morris wedding. On the bus after lunch, we sang "Going to the Chapel", followed by a series of funny songs, mostly led by Binghampton men.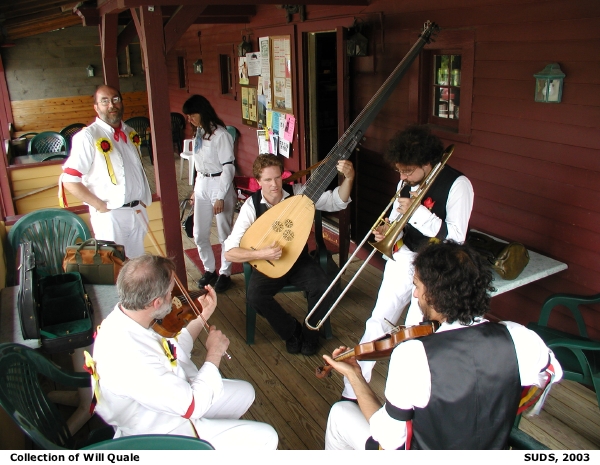 We danced at a rural post office, and then at two spots at an old folks' home to a very appreciative audience which included Jamie's 94-year-old grandmother. It was touching; I'm sad neither of mine will likely ever see me dance.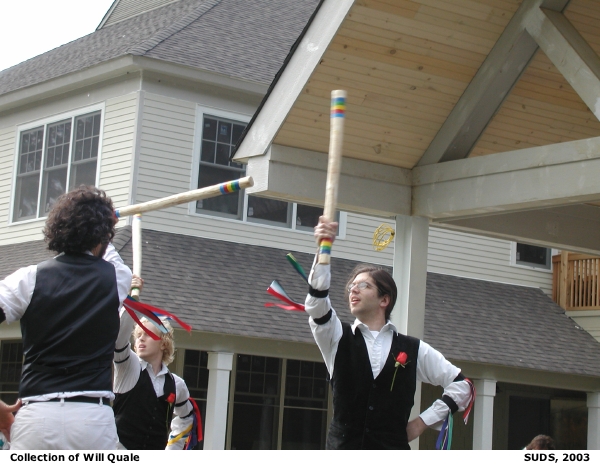 These buses we were riding on, it should perhaps be mentioned, were standard run-of-the-mill yellow school buses, on which we were drinking heavily (beer coolers in the front full of Fuller's ESB, the Bouwerie drink of choice), smoking pipes in a few cases, singing loudly, and generally carousing in all of the ways one isn't generally allowed to carouse on a yellow school bus.
After the four dance stands, we headed to the Cockerline's for tea, arriving there a little after the Southern Tour bus. Tea was a splendid affair, again just what the moment called for. Grapes, peaches, several cheeses and crackers, and a three-layer cake, plus hot tea and cold lemonade. There were lots of chairs, a hammock, and plenty of shade to sit in, and many neighbors stopped by as well as the morris men and the Cockerlines themselves. The Cockerlines are neighbors to the field we camp in, and they've been hosting this tea for the SUDS at their own expense for about twenty years. They're likely moving (though staying in the same area) within the year, so tea arrangements for future years are somewhat uncertain at the moment, though something will work out, I'm sure.
We sang a song of thanks at the end of tea and then, after a leisurely hour, we formed a loose parade and processed to Falls Village. The musicians played a series of random tunes as we walked, with squeezeboxes, fiddles, the trombone, the bass drum, and cymbals making the bulk of the sound. As we approached the village a mile or so down the road, we formed up for the Winster Processional and danced the rest of the way into town, ending in front of the town hall where an assembled crowd of hundreds cheered our entrance.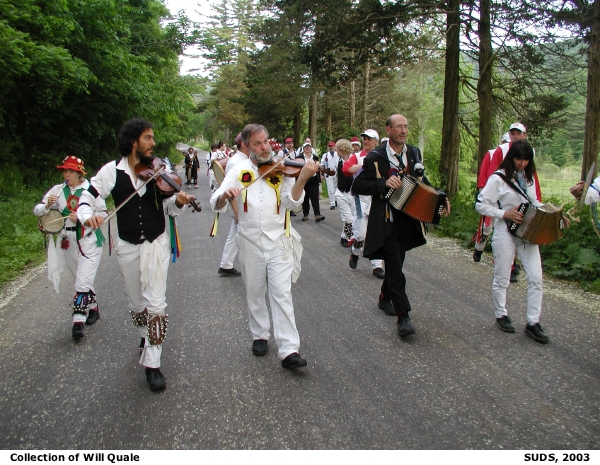 Each team danced two show dances, with Bouwerie last in the rotation, with My Lord of Sherbourne set jig and Lads, neither of which Mark or I danced, which left me free to take plenty of pictures and chat with him a bit. There was a lot of time for chatting with various Boys, and I feel a lot closer to many of them after this, more like I belong there. It's a good feeling, but one I hope to further cultivate by showing up for a few practices next year if possible. Earlier in the day I danced several times, including Cuckoo's Nest, Jockey Ducklington, Upton Stick, and Orange in Bloom. Maybe just those four, I'm not sure, but that's not bad for me at a Bouwerie event. My Sherbourne needs a lot of work (it's positively dreadful in my opinion), but they appreciate my enthusiasm and ability to fake things (and occasionally to get things right).
After the show dances we went into the town hall for the Feast ... one of the highlights of a delightful weekend. The food was outstanding -- several courses nicely spaced, well prepared and delicious. It was neither outrageously late nor egregiously inedible, as the town hall was renovated a few years ago and now has a full kitchen on-site where the meal is prepared.
The speeches and songs throughout the Feast were fabulous, nicely varying from seriously poignant thanksgivings and contemplative musings and anecdotes about the history and spirit of morris dancing to hilarious shaggy dog stories, improvised shenanigans and hooliganry, and embellished tales, along with spontaneous jokes and songs of all manner. [Of particular note, Graham gave a speech which was so overwhelmingly something-or-another that all I could think to write at this point in the journal was "Graham speech."] The beer flowed freely, and afterwards there was excellent port. I drank heavily, about three beers and a tall glass of port, and found I was quite woozy by the time the cigars came around. I didn't partake and did find it got a bit hard to breathe in a roomful of them, but the Feast itself was essentially over at that point, so I headed outside to the fresh air.
There was only one dance after dinner, another Jockey Duck, which I danced while Jessica's tabor reverberated half a beat late off the side of a Housatonic passenger car and New Haven caboose parked at the end of the street, under the light of the full moon. As my head went one way from the port, my belly went another from the beer, and the street yet a third direction all of its own recognizance, but somehow my feet stayed beneath me and I capered at the right times, in spite of having only one hankie by then (having left the other at the Cockerline's at tea).
Then we processed back the mile to camp by the light of the full moon under a now cloudless sky. We had no rain on Saturday, but the field was still a muddy muckfest, and I continued to be glad for the miracle boots, which I changed into as we approached camp. There was a bit of talking with Bob of Pokingbroke that evening under the main tent, but I turned in a little after one, and went to sleep as Michael and Mark played tunes on fiddle and mandolin.
Sunday morning, breakfast was blueberry pancakes made expertly by Jessica and significantly less expertly (but humorously) by Michael. I was up by 7:30, still grateful for the boots, and glad to have a couple cups of coffee for the first time since I went off caffeine in April. I figured it balanced out the excesses of alcohol the night before, and besides, it tasted good. I wasn't particularly hung over, just groggy. Allen Cockerline came up to camp with a large Mason jar of maple syrup from the trees right at the campsite which went perfectly with the pancakes.
After breakfast, we broke camp in near record time on account of the mud, as Bouwerie wanted to get as much help as possible before everyone else left. We picked up the main tent -- fifteen men, one on a pole -- and walked it about twenty feet in formation to dry grass before pulling out the poles and folding it, a manuever which worked surprisingly well. Jim and I got his tent packed up, I helped Mark with Jessica's, and we all did various odd helping out with camp in general. Somewhere in there, I had some time to go chat with new friends at the Pokingbroke corner of the campsite. Shortly before we left, we went to sing a song of thanks to the neighboring fellow whose driveway we used to access camp, and he was quite appreciative and jovial.
Finally, we headed back into Falls Village to clean the town hall, mopping everything, removing all our decorations, and returning the furniture to its pre-Feast state. Once that was done, we were done, and various Boys headed off in their own directions. Charlie, Graham, Dave, Jessica, Jim, and I had lunch at a diner on the Appalachian Trail just out of Falls Village before splitting up. I drove Jim's rental car all the way back, through scenic small towns on 7, 4, 22, and 6 in Connecticut and New York, and the Taconic into New York (after an aborted attempt and U-turn on I-684, which was totally backed up). We took a leisurely drive, stopping in several small town along the way to wander and take a few pictures, and we got to his building around six, unloaded his things. I checked the train schedules from his apartment, and then he drove me to Penn Station where I took the Amtrak [back to Philadelphia]. Whew!